Lowest cost
Our refurbishment services are cheaper than buying new from the manufacturer and cheaper than regrind facilities with less down time and quicker time to service.
Least effort
We come to you to perform all services, typically within two weeks. We can get you up and running within one production shift per machine for typical repairs.
Reliable service
We have serviced and installed hundreds of ball screws at manufacturer's facilities to correct linear motion issues and understand each machine has its own set of challenges.
Services
We are specialists in on-site repair and refurbishment of Northwood Router linear motion systems including ball screw assemblies and linear way guides. During a consultation over the phone we will troubleshoot your issue and follow up with a service request with travel and work estimates. Multiple machines may be discounted as well as travel shared with neighboring facilities if scheduled down time is flexible. We can come out and inspect your equipment within 3 business days in emergency situations.
Basic Services Include:
Ball Screw Repair and Refurbishment
Ball Screw Installation and Removal
Ball Screw End Bearing Replacement
Linear Way Guide Rail Installation
Linear Way Guide Block Repair and Refurbishment
Clean, Flush, and Lube Service
Free Inspections
We can perform inspections and service of linear motion systems in a variety of configurations including any of the following:
Northwood
| Type | Series | Models | |
| --- | --- | --- | --- |
| Routers | Various | Various | |
Service Notes
Northwood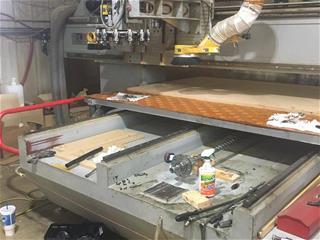 Northwood CNC Routers are extremely robust in manufacture, but there ball bearing motion system components still suffer from the same contamination issues as other CNC routers. The ball screw and linear way guide components still get clogged with sawdust and debris. Eventually this foreign material clogs up the lubrication delivery systems within the bearing assemblies causing friction to increase on the bearing races. Continued usage of the machine under these conditions often lead to bearing failure, damaged ball screws, or overheated servo motors.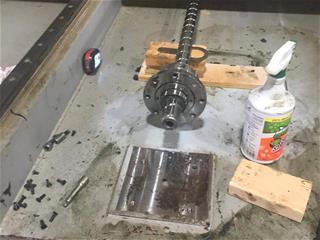 In the years of servicing Northwood routers, we have encountered many varieties of ball screw manufacture types in the machines. Please keep in mind that we here with Ballscrew Guys seldom work on new equipment with most equipment a decade old or longer with replaced and refurbished components. Most commonly we find Umbra Group or Rexroth motion system components inside. It is also common to find other non-OEM refurbished components inside your machine which can complicate service times and pricing, so we may need some descriptive information of your motion systems parts before giving you accurate service pricing.